July 24, 2020
For various reasons I have been having a problem with my Monday quilt. I decided today that I was going to make progress one way or another. I had been really keen on my design for the folded week but it turned out to be a very stressful week and that has changed my feelings about the border. Reasonable? Maybe, maybe not but that is how it is. I want to be able to move on and start my second Monday quilt. The longer this holds me up the more out of the loop I feel so I need this to move on. I had decided that my modern border would be plain black, that is the week after the folded that has me stuck. I want just a very few squares for my squares week then it will be curves and scraps. Today I cut up all the remaining fabric.
These pieces will become the curved piecing and the scrappy borders. this is most of the remaining fabric. I already have pieces cut for the folded and squares so I don't need to worry about those. I hope this pile will be enough as I really sont have a lot after this. I then cut pieces for the binding.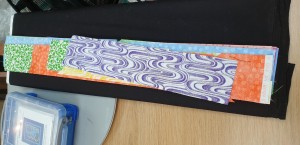 I am not sure I have enough, and I am sure I cut them the wrong size. However it is what it is and I have a couple of plans for making it work. I had planned to cut it wider for a nice easy piped binding but to be honest I think I would have struggled even more to get enough. I may do a fiddly piped binding or I may hand finish it. Which will hurt and take an age but it is an option. My plan now is to get the scrappy and curved borders made. Then I will see how I feel about the folded border. If I still hate it I will use the few blocks I have and a lot of plain black. My modern border will also be negative space, yes a bit of a cheat but also very modern. Then I can do a few squares for the corners of the squares border and put on the curves and scrappy. In theory it should all be pretty straightforward. We will see if it works out that way.