July 15, 2020
My begging and pleading has paid off. I can share another Monday Mystery Solo Robin with you. This is the one made from the fabrics I shared here a couple of weeks ago. These are ombre fabrics so although there are only eight fabrics plus the background there are a lot of shades.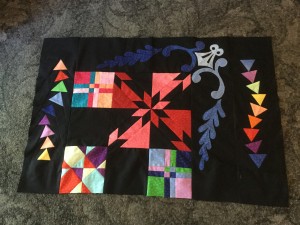 This is the first four weeks of instructions. As well as following the weeks rules Sharon is also trying to use a die from her Acuquilt each week. I pointed out that she has many and you always get a few that see less use. This way they may all get an outing this year. I am really loving how this quilt is shaping up. It helps it already has some blocks I really like and applique feathers. I will be very interested to see it develop and to see how different it is to mine or Rachel's. I don't think many people could work out the three quilts were made from the same instructions.
If you are sewing along with us please do consider sharing some images, we would love to see more ideas on how to implement the Monday design ideas. Leave a comment below and I will let you know how to get images to me.