June 20, 2020
Yesterday I managed to finish the traditional borders. A total of 10″ on opposite sides. I went with 5″ each this time, as that worked well with the blocks i had left over and i think added to the Traditional feel. I used the sashing to move the stars about more, I hope it will give more of a feel of twinkling and constellations.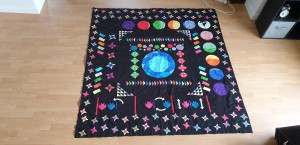 With this and the previous border there is only sashing to one side of each block. I deliberately attached the two sides of this week differently to each other. I think the differnce is quite hard to see, but  I discovered I preferred the offset version. You may also notice the colours of the stars sometimes match up. I made the decision to go With random colours and that's just how it landed. Yes I could have spent a lot more time trying to work out  a layout that didn't have the same colours close to each other, but really does it matter? I think not, with so few colours they won't ever be really spaced out anyway. To be honest I am kinda amused by how many lined up. I must be more predictable than I knew.
I have started on the folded borders. I got one block together but I am not sure if I like it. I left it to mature to see if it will be better when I go back to it.