May 17, 2020
I managed to get my act together today and get the border finished. As well as a lot of other small jobs and participating in baking day. The border was indeed quick to get together as all the parts were made. I just needed to get the padding pieces in. I did manage to get the end bits the wrong size first try, but as I tell my students, when a border doesn't look like it fits when you go to pin it you need to measure both parts in case there is an error. There was but it was easy to resolve. One of the reasons I made the important blocks of the border smaller than the whole length I needed was so I could adjust the border to the  right length.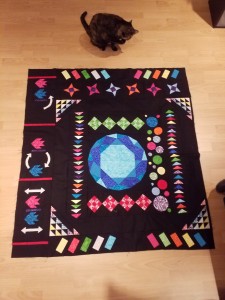 Sorry I didn't realise this was so blurry, I will try in better light tomorrow. I didn't mean to put the border on that side, so it is possible in future photos it will have moved. Then again it does look fine there so maybe not. Either way I won't rush the decision. I will be interested to see if anyone knows me well enough to see what my bears are dancing, it amuses me, and was suggested by a friend. We had it fully designed by 9am last Monday. The friend isn't a quilter but does totally get my slightly odd way of looking at these things.
For my baking day, apparently it is world baking day today, I used up the left over egg whites from yesterday. I made my first roulade. It turned out very well,  a little browner than I would have hoped, but with the golden sugar that is always a risk. It was filled with the left over cream from yesterday and tinned peaches. It is nicer than it sounds and much less sweet than store bought roulades. I liked it enough it may become a regular feature. It was also a lot quicker than I expected. The onlky issue is baking parchment. It seems there is a shortage of it. The brand's I usually use are totally unavailable. The best guesses are it's made in China, or there is very little in the supply chain and now more people are baking that has caused the failure. Hopefully I can find ways to work around this for now.