March 24, 2020
Just a couple of notes on the Monday mystery solo robin. Your starting block can be any size you like. I just recommend it be 9″ or bigger. Don't feel you have to make it 9″ exactly, you can, you just don't have to.
If you want to send in photos leave a comment and I will email you the address to send photos to.
You don't have to keep up. The steps after the block can be done in any order or skipped entirely, it will be fine.
Lastly, these are the flying geese I have been talking about.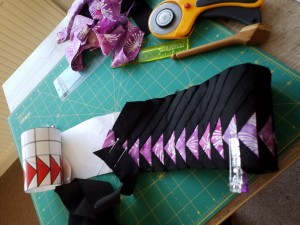 I have to roll it up like a scroll to keep it manageable. Unfortunately that means I can't actually see the progress. I am sure I am getting there it just doesn't feel like it. Maybe this week will complete it.