March 22, 2020
Well I haven't quite admitted defeat, but I don't think my flying geese will be done by the end of today. Yesterday we worked on building raised beds. and I am very pleased with our efforts.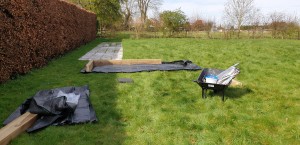 This was where we started yesterday morning. A field, a bit of hard standing and some grass, oh and a pile of railway sleepers. Of course those weren't in the field but it turns out buying a good wheelbarrow was a really sound investment (and not huge one either) as it was able to take sleepers without a problem.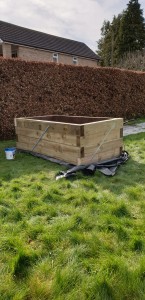 By lunchtime we had the first bed built and painted inside. Belive me we were ready for lunch and I was beginning to realise that painting was hard on my hands and shoulders. I was so pleased with the results though it was worth the pain. The bed is about 2m x 1m x 0.8m. Yes that is a tall raised bed, but bending really is an issue for me as is kneeling. This way I can garden standing and actually reach most of the bed from a chair if needed. I am planning on these lasting many years and I doubt my joints will get wildly better as I age.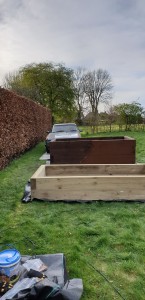 This is the last picture I took, it was about the time I started to tidy up. You notice my car has come around to join us, this is his spot for the moment. The first bed has had its first outside coat of paint and the second bed is half built. Ultimately this row of beds will have three raised beds in it, but that will probably be next year. I got these two as proof oc concept, and frnakly they are expensive. If they last as long as I hope they will prove worthwhile but still it is an investment. I am hoping the two will be enough to give me a good start with the greenhouse and another small raised bed. Today I get to do a lot more painting. Each bed take 5l of paint. Which is quite a bit to apply whatever the situation, but in this case I can only find a 1.5 inch paint brush. Yup it's slow, very very slow. This is just the nature of things. With the current situation we will have to improvise and make do with what we have. if a small paint brush is the worst of it I will be doing very well. I somehow suspect I won't get that lucky but we will see.
As we spent the day outside so did the faithful hound. We did have to tether him so he couldn't 'help' us. It seems he has a lot of cat traits including their ability to 'help'. Instead we gave him a chew and let him at it. He did also have toys and water, but the chew has turned out to be the love of his life. He didn't finish it and has been trying to go back to it all evening and this morning. Don't worry it is safe in the shed ready for him today when we get back to work.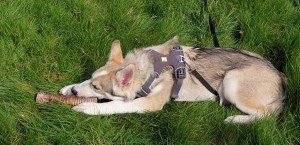 For those in the know, yes the sudden inclusion of photos does mean I have working WIFI again. Over the mobile internet photos have mostly refused to upload. Now I have real WIFI hopefully I can keep having photos. I suppose I can't put this off any longer, I should make breakfast and get back to work on the beds.
Leave a comment if your starting block is ready and you need the next instruction tomorrow please. If I don't hear anything I will asssume you are all working on the blocks still and stick with putting the first instruction out a week tomorrow.