December 10, 2019
I needed a new name for the place I store my fabric stash. store room sounds so grim, fabric isnt grim, it's inspiring. Stock room gives the impression things are for sale, and this isn't this is for me to use. As there will be lots of shelves of inspiration calling it a library seemed appropriate.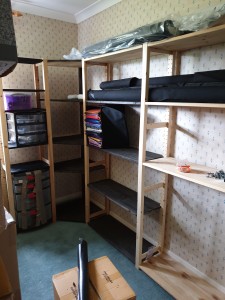 This is the first section of shelving to go into the new fabric library. Don't be fooled, notice the edge of boxes on the left hand side of the image. Some of the shelving is black because they are left over from my previous fabric library. I may at some point stain it all black to match but for now I just want the room unpacked and somewhat functional.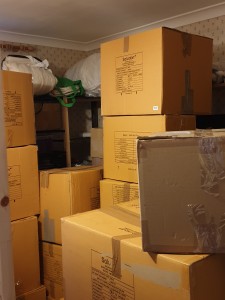 Behind the boxes you can just see the start of the shelving. I will be using Ikea Ivar again for my fabric storage. It's not fancy but it is effective and reasonably priced. Having got that first section of shelving in all the boxes needed to shuffle to make space for the next batch. This is the same problem as the sewing room all over again. The room is full of boxes that can't be emptied until the furniture is in. The furniture can't go in becasue the boxes are in the way, and being fabric they are HEAVY.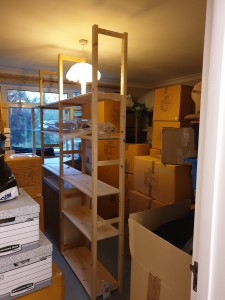 This picture gives a much better idea of the magnitude of the box problem in here. There is a chance some of the boxes aren't fabric but the majority will be. The idea is that the fabric library won't quite fill this room. I would like to try and fit in a spar bed if I can. Not that I want people staying, I like my space, but sometimes it is useful.
Have you noticed the nearly deliberate error? Yup I forgot to measure the location of the ceiling light when I planned the shelving. So now it is right in the top shelf. It isn't actually a problem as the room will need at least 2 lights to really work for us. It is just a little annoying short term. I think longer term this room will have the same type of lights as the sewing room over the fabric library. We might put something else in the spare bedroom section.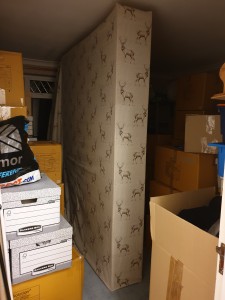 To make the shelves a better room divider I have covered them with fabric. Cheaper and less permanant than a wall but it should look like a wall from the bed, at least that is the plan. As we aren't going to be redecorating the room in the near future I tried to find a fabric that blended with the existing wall paper. With this I have the bare bones of the new fabric library.