December 6, 2019
Using a spare bedroom as a sewing room has a few issues. The fitted furniture can be put to use, but the dim, great for preparing for bed, lighting is never going to work well for sewing. I have been managing with several lamps but that really isn't a long term solution. As the ceiling is very low I have ordered some LED flat panels. They are bright daylight lights and will only come 2 inches from the ceiling.
To fit them the loft needed to be rewired and new junction boxes added. I am very impressed with some of the new junctions boxes. The wires just slot into them and the box is prewired and labeled. Once those were in place the power packs for the panels could be installed.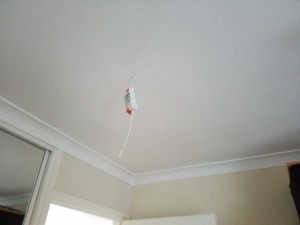 Then it was ready for the 4 mountings for the light panel. Which is more fiddly than it sounds. Not only to get it in the right place but also to make the smallest possible holes in the plaster board. At least the lights aren't heavy. That's a first for me, I usually have a talent for picking heavy light fittings.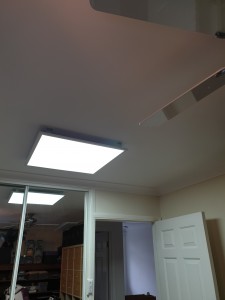 Bear in mind that light is on, in daylight and the original light fitting is also on, and it still looks very bright. It is a massive improvement with just one of the new lights.  I can't wait to have all 6 in place. I think they should mean I can cut with no shadows at all from the ruler, well thats what I hope anyway. It will be a while before they are all in place but each one makes a huge difference.