November 30, 2019
I have an idea for my next quilt project, but as I hope to show it i can only show sneaky peeks here. It does make blogging trickier, but we will see what we can do. I am going to do something based on the summer school I ran in July. We spent a week playing with New York Beauty blocks, and I had a lot of ideas on how to make new and different designs with them. One of those will become the new quilt I hope. Of course that means drafting a block pattern, which mostly needs me to draft polar graph paper. I do have printed polar graph paper but only in A4, and for this I want to have better detail so I want to work on A3.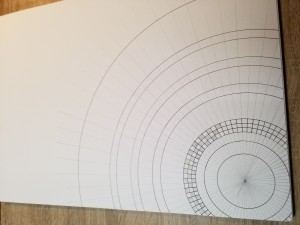 This is my starting frame work, I think, I have a couple of proportions I am not quite sure about. Yes this is a lot more complex than the basic new york beauty, I am hoping it's roots will still show when I am done with it. I guess it shows that I am really keen to do some curved checkerboard. It is something I have been considering for a while, and when I was playing with these blocks I totally fell in love with it in them.
I have been trying to do my drawing in the sitting room, and I have been reminded just how bad modern lighing is. There are 12 bulbs in here and yet I can only achive dim lighting whatever I do. Adding a couple of lamps means I can do some drawing but the precision is not what I would like. Once I get the new lights in the sewing room I can see that being my prefered place to draw for at least the forseable future.