November 18, 2019
Done is a bit of a misnomer, there is work to do on the wardrobe, and the design wall (what design wall you say….exactly my point) and general reorganisation. For now though the room is usable and I can live with it and fine tune things.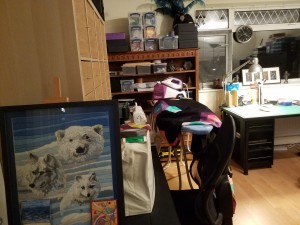 As you can see I have set up the ironing board and iron. I can't sew without these and I think this is where they will live most of the time. They can move to the other side of the room if I am using the overlocker or the PQ1500 or I suppose if someone was visiting and sewing. Ultimately the picture will probably find a space on the wall but I want to know what else is going on the walls before I hang pictures. That's why there is one on the windowsill too.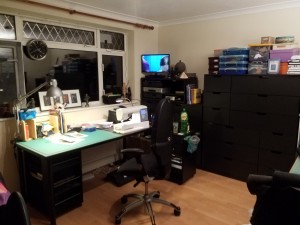 As I have been sewing one of the under desk drawer units is out. This is a much safer space to put things like drinks and my small bin. Less likely to be knocked or have random tools falling in them. At the moment I have to have a lot of lamps on to be able to sew in here. Hopefully in the next couple of weeks I will get some more lights. I have bought large daylight LED flat panels. The ceiling is very low in here so I need the lights to be as close to it as possible. The flat panels will be about an inch in total from the ceiling. They will be bright and should give me true colour. I may need to hurry up and get some sort of window covering before I light up the countryside. I think I am going to have wide slat wood looking blinds, but I am not totally decided. I still want to make a faux stained glass window covering but that will take time and I will need something sooner.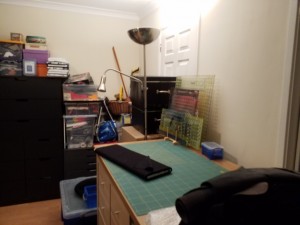 The cutting table is set up and has been used in anger so to speak. As you can see more lamps just so I can see to cut. I am considering making a table top I can fold, so for really large cutting jobs I can pull the table to the middle of the room and extend the top. I just need to give more thought to the best way to engineer that. The messy corner needs work. I think it will get some shelving. Again, this isn't urgent and doesn't stop me using the room so I can leave it for now and give it more thought. Part of me would like some sort of part glazed cupboard but I am really not sure how practical that would be. I am a messy worker with aspirations of pictuesque working spaces. This is not the best combination. As soon as you really work or create in a space there will be mess, I should come to terms with that. The pile of fabric in the foreground on the table is for my second pass at a lampshade. I am using my prototype at the moment. It works but there is a lot I can do better. I now have at least most of the trims I want to use so maybe that should be my next project.