November 14, 2019
I think the room is really looking pretty good now. It has been a lot of work, and much of it heavy, hence it has taken a while.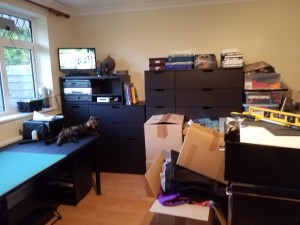 I hadn't realised how messy these boxes look. I guess I am becoming immune to boxes, I hear that is common when your house is full of them. I think repeatedly moving them also starts to make you blind to them. Self defence maybe. If you were too aware of them they would be so depressing and overwhelming.
This is my new main sewing table. It is a lot smaller than my last desk, which is a little worrying. The shape of this room won't really work for anything bigger though so I will see how this goes. It is bigger than the table in my sewing cabinet which has been OK so maybe it will work out. I also have a dedicated cutting table now, which works when I need a larger surface (hmm I wonder if I can make a hinged top so I can double the space sometimes). I also have enough floor space now to pull the drawer cabinets out from under the table. These then give me quite a lot of extra workspace and it make a U shaped space which is usually more ergonomic than just a rectangle. Really only time will tell. I can update later.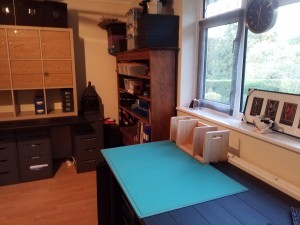 The bookcase is now almost completely dug out. It isn't sorted yet but at least I can see it. I think it will be used for my favourite magazines and middle size supplies. It will also be nice as a display space. I think the files and scrap boxes will be staying on top of it. Time will tell.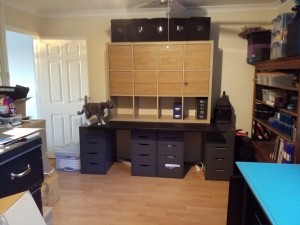 This unit is half new and half reused from the last sewing room. The grey drawer units are the storage I bought when I cleared and the old room. I had planned to have more of them to completely fill this room, but as they are discontinued that's not an option. So they get to be the supports for my side desk. This is where my PQ1500 and overlocker will live. It used to rest on wire drawers, however these look about the right height and they did need somewhere to live. The desk top is the same as the one on my main desk. Above I decided to have more kallax. These units are taking over my house, they are so versatile and easy to work with. The bottom cabbies I will use for the project that I am doing on the machines or for their extra parts. There are a couple of sets of drawers of haberdashery that will tuck in there too.
The drawers above I am mostly going to use for haberdashery I think, one is overflow knitting, and the cupboard above it has the most likely to be used wool. I am sure the rest will evolve as I go along. Realistically once I have been in the room a while I will need to resort the storage, but first I need to use it.