November 12, 2019
Onwards with the storage for the sewing room. These cabinets are very heavy. Which is good I wanted something well built and solid, and IKEA is the best my budget stretches to. I don't know how these will stand up over time, but as they are designed to be full of clothes, fabric can't be that much heavier. I hope.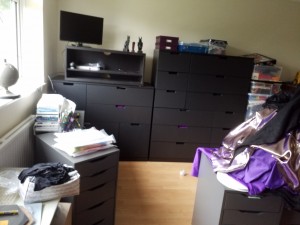 I do like the look of these drawers. Ultimately I will resort all the fabrics and add labels to the cut out handles. For now I just needed to get the boxes empty and the fabric sort of grouped. These are definately far better than the wire drawer units, which were cheap but not ideal. They do have good airflow around the fabric which I think in some climates might be very valuable.
The second drawer unit is 3 drawers high in each component making it a third higher than the first one. The capacity is great, although the drawers don't go all the way to the back of the carcasse. Can a furniture maker tell me why there is now a 2″ to 3″ gap left behind drawers? Is it a stability thing?
On the subject of stability, these drawers will apparently eat children. That doesn't worry me too much, why would there be children in my sewing room, shudder. The instructions say that if I don't attach them to a wall children will appear and climb them. Also if I put a television on top of them children will just die. Bear in mind these are IKEA instructions. To be efficient they use no language just pictures, it's a great idea but sometimes means I find them tricky to read. Yes I struggle to read pictures, including computer icons, they just don't make sense to me. I decided I was pretty safe to ignore these warnings.  The cabinet on top of my drawers is a piece from the old sewing room (yes I have been trying to reuse things) it's one of my better cheap purchases as it not only brings the TV to a good height, and takes all the media items but it also has a space big enough to take two rows of DVDs. It's a little thing but it makes life a lot easier. This is where sewing and quilting DVDs usually live. At the moment all DVDs are still in boxes in the room that one day will be the library.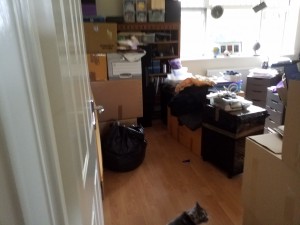 This is the other side of the room. The boxes have been stacked here. Now I can open the door fully and see almost half of the bookcase. For me that was a big step forward. I forgot to count how many boxes I emptied into the drawers. Lots will have to be close enough. There is room to get a few more emptied into them, and I keep finding items in the boxes that just shouldn't be in here, which is great. I love evicting something rather than having to find it a home. Is that cheating