November 10, 2019
Back to the sewing room project. There are two things to know about this. Firstly a lot of the bigger boxes are heavy, really heavy so I knew sorting it out would take careful pacing. I don't want to upset my joints too much. Also this poject had to fit in around the rest of life, it's important long term but not really critical for day to day living.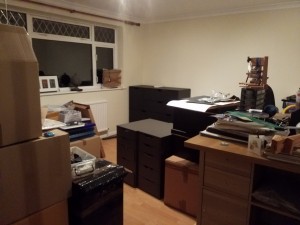 The next stage in unpacking was to get more storage in. As I mentioned IKEA discontinued the Alex drawers I had been using so I needed an alternative that would fit in with them. I planned to have my side sewing table on this wall but once I saw what cabinets were available and which way the light came in I switched the room around. This will now be the main storage wall. The 2 grey Alex cabinets you can see and their 2 mates (image below) now need to move accross the room. This is unfortunate as they were moved full and the drawers are screwed in, you can't readily pull them out. At least I don't have carpet.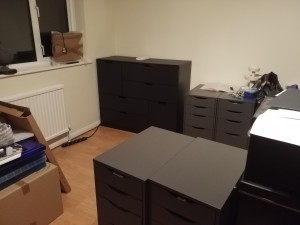 The new drawers are from the Nordli range. They are very clever and work somewhat like lego. The frame you see here is 4 units thaat are fitted together on a plinth with a full top. This means you can choose different drawer set ups and differnt unit heights. This has 2 deep drawers which I hope will work well for bulky fabrics. Fleece in one and faux fur in the other. The 4 longer shallower drawers will take fabrics that fold better. There is a second set I need to build, that will be a bit bigger. That's another days problem, these things are heavy so is the fabric that goes in them.