November 6, 2019
After the longarm room, kitchen, bedroom and sitting room the sewing room is my most needed room. So now those others are sorted or mostly so this is the focus of my attention. The longarm can't be used until the UPS arrives for it. Power cuts are much more common with overhead power lines and a power cut when doing highspeed freehand quilting would be a disaster. Fortunatly I learned this lesson with one of my quilts on the frame not a customers. This leaves me with time to sort out a sit down sewing space, or attempt to at least.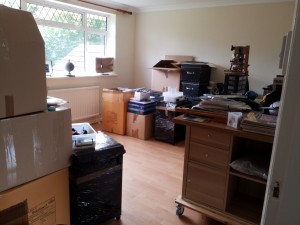 With some more box shuffling, and some unpacking the cutting table has made it to its proper place. I have found the new desk tops I want, I just need to go to IKEA to get them. I also need to choose the replacement drawers for my dressmaking fabric. Unfortunately IKEA have discontinued the grey Alex units that I had planned to get and I really don't like the current colour options so I need to find something else that will work with them.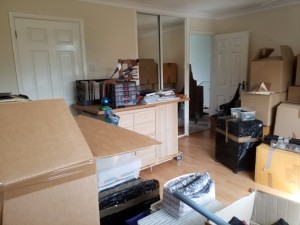 The mirror doors lead to a small buit in wardrobe. Ultimately this will hold my mini bolts of fabric, but that will need some fitting out. For now they are just in there in the boxes. I am thinking of a full set of shelves for the back half then a sliding/rolling half width shelf in front. It won't use all the volume of the space but I think that is the best I can do and have good usability. The closed door party coverd by my cutting table is the jack and jill bathroom shared with the office next door. I am going to ignore it. The door would take up too much space if I left it accessible and there is another bathroom just down the hallway. I would rather have more space in here and walk a little further for the toilet.