November 4, 2019
I think this was actually the third day of working on the sewing room, maybe the fourth. It's hard to tell when every day involves boxes boxes and yet more boxes.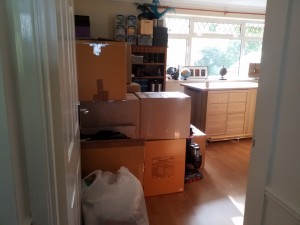 As you can see I have managed to get the bookcase in, and assembled the cutting table. The bookcase is a lovely old piece and gave me some room to start unpacking some boxes. That in turn buys me some shuffling space. The room was so full when the removals firm delivered the bookcase there wasn't room to get it in at all so it had to be left sitting in the hallway. I am glad they were at least able to get it up the stairs for me it is a very heavy piece of furniture.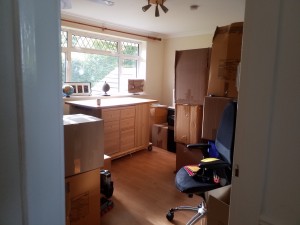 The cutting table is made of three IKEA Kallax units. They are on a base that we bodged together from some left over Ivar shelves. Eventually I will make it a beter base but for now this works and I have no shortage of more urgent jobs to do. Ultimately this unit will be on the opposite side of the room, but as you can see that's currently full of boxes, so for now it can sit in front of the window and get filled with things from the boxes.