April 6, 2019
Took a little longer than I hoped but 3 more quilts are bound and ready to go back to storage. Well that isn't quite true, one is currently having a wash. It had sat so long it really needed it. I had titled It "dog bed", it was an experimental piece, pieced on the longarm. It served the purpose but it's not what you would call a show quilt. It is apparently an excellent cat bed, so I will hang on to it and sling it on a sofa for the cat.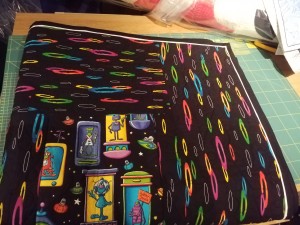 This one is large and is going back to storage. It is a sample for one of my patterns that is designed for big prints. Getting it put of the house will free up space. Along with it will be Speed 1. I am kinda thinking I might need to make a Speed 1.5. A bigger quilt based on speed 1. Of course the more I think about it the more chance there is it will mutate so far that it ends up as speed 6 or 7, dang I need to check how many Speeds there are.
Not managed any more clearing today, been viewing houses which takes an absurd amount of time and energy. Still progress is being made so I can't be too upset. Meanwhile dinner seems to have exploded and maybe, just maybe the worst will wipe off the bottom of the oven if I get to it while it's warm.