April 4, 2019
More progress on sorting out my longarming space, but that means more quilts to bind more scraps to cut down and a design wall to finish making. The latter I did manage to do, admittedly partly to use up a spare piece of wadding. Seemed easier than finding another home for the wadding as it is tooo big to throw away but too small for most quilts.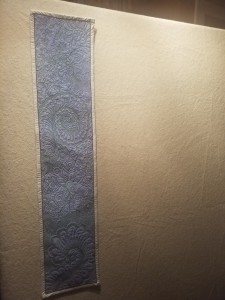 Sorry I can't get far enough back to photograph the whole design wall. I had been looking at portable design walls and to be honest none get stellar reviews. Then one of the comments gave me an idea, why not just make my own. A few plumbing supplies and a little cutting, its pretty easy really. When I have a permanat base I will glue the joints. For now they are push fit with a little masking tape for extra security. Over the frame I have a piece of cotton wadding stretched. I stitched it to have pockets at each short edge. It is very lightweight and I can easily move it about.
The piece on it is something I found while cleaning and it used up a binding offcut I had. I am not sure yet what I will do with this, thinking I might keep it as it is so narrow and thus easy to find space to hang. Four of the quilts waiting for binding are now trimmed ready to go, and I have made 30m of binding today that will work on 3 of them. I am hoping there may be enough left after that for one quilt that I have in my queue, but to be honest I think I will be out of luck. It is a lot easier to bulk produce binding it is also very very boring.