January 15, 2019
The box mountain is shrinking rapidly. Just 3 more archive boxes and 3 plastic project boxes to deal with and the kitchen will be back together. I have the new storage installed under my computer desk, so the next free cleaning time will be spent filling that and in so doing making space to complete my taxes. It's not fun or sexy but it is very important.
The quilt on the frame is very near to being finished. Changing the order of work sped things up a lot and had the phone not rung I think I might have finished today. I guess I need to start thinking about which projecting load next.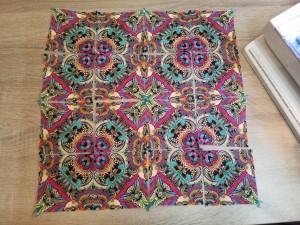 This is the final layout of the last block I posted, I seem to have forgotten to take a picture of it once it was sewn. I have one more block cut ready, and then I have to pause and find some quilts. Less interesting I know but it has to be done.