January 12, 2019
We are very short of space in our bedroom, well in every room to be honest, and having a laundry hamper is a problem. Last week I figured out what I wanted, an over door bag with a drawstring bottom so I can empty it without taking it down. I was sure I had seem something like that before. After a day of searching the internet I phoned a friend, she remembered them too and in fact had had some. After confirming it would be ideal for me I decided it was time to make one. I can get at all my fabrics now and some of my notions so why not?
First I started with the hanging loops. This is a really stiff denim like fabric. I think it is a blend not pure cotton and it doesn't want to take a crease. So to get the fold I needed I used a LOT of clips. It did the job very well even if it looks a bit crazy.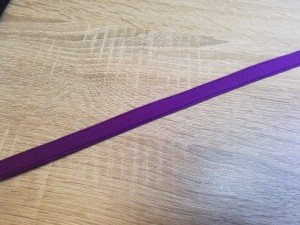 This is one of the three loops. I chose to stitch with black thread to get some contrast details, though to be honest where it hangs it is unlikely to be visible. I will know though.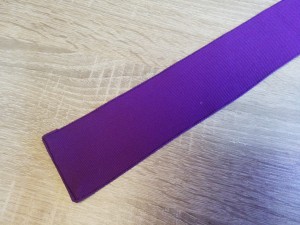 Next came the 2 casings for the drawstring at the bottom of the bag. I wanted to have all the fiddly bits done so once I started assembly it was just assembly with no messing about.
The main part of the bag is 2 large panels. One of which needed a hole for putting the laundry into. I did this with a facing rather than binding the hole. It is a pretty big laundry bag and I didn't want the hole to sag too much. The facing is as wide as the bag panels so it is held in the side seams and makes that area of the bag much stiffer. The curve isn't as smooth as I would have liked but with the fabric not wanting to press I didn't have many options for smoothing it out, and as I said before I don't think anyone will get a good look at it in future.
I stitched up the sides and top of the bag, trapping the hanging loops in the top seam which I stitched multiple times to add strength. I was then able to hang it up and check exactly where I wanted the casing to be.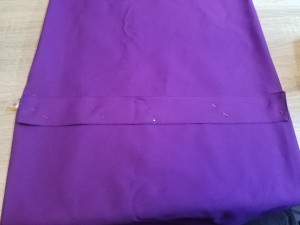 One casing was stitched to each side of the bag to accept the drawstring, or in this case drawrope.

It is up and already in use. It certainly keeps the dirty clothes off the floor, I have yet to test emptying it. I am hoping I can just stick a basket under it and open the rope. Fill the basket and close it off again. Fingers crossed it really is that simple. It does definitely clear access to the chest of drawers and that has to be a bonus for putting clean stuff away.