January 11, 2019
OK anyone who knows me knows I am not desperate for spring, but I keep seeing things about spring cleaning so either I am doing it wrong or it must be spring. I have been dividing my cleaning time between tasks at the moment. I need to have access to my computer desk before the end of the month, but having my sewing room back in order helps my motivation, so both are getting done.
I can now touch the desk but to get it clear I need some storage. The cardboard boxes under the desk have disintergrated. That's easy, right? Buy some under desk drawers and it's all good. Initially I planned to buy another one of the drawer units I put in the sewing room in the summer. Measured up and it fits. Until I moved the boxes and found the back leg of the desk isn't in line with the first. Why is it anytime this happens the solutions are all expensive? Fortunately a friend managed to find me a cheap set of metal drawers that will fit and I think I can also fit in one of the small cube storage units. It wouldn't be my first choice but I think it will give me the storage capacity I need.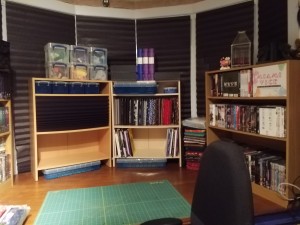 This is the current state of play for my sewing desk. Yes the cutting mat does imply I have already made use of it. The boxes have arrived and are in place, although I am waiting for a replacement lid for one of them. The hand dyed fabric is now behind a blackout blind, and I have to say I love how it looks. It really looks like a proper unit not a quick bodge

The boxes up top are my scraps. I have a few more waiting to go in them I just haven't found that motivation yet. The cutting table is nearly cleared, my rotaty cutters reappeared and are now cleaned with new blades in.
It all feels painfuly slow. I only do house stuff and cleaning till midday. I need time to work as well. I just keep thinking at least there is forward progress. Eventually things will all be organised and functional. Probably just in time to move house