January 5, 2019
I am sure routine shouldn't make me feel life is boring but it's so unusual for me to have any kind of routine I can't be totally sure. For the moment mornings are devoted to putting the house back in order. Today that got one of my under desk units back in place and 16 books scanned. I found a few missing DVDs in a box that I unpacked, which sounds trivial but it has been bugging me. Knowing stuff is missing is just irritating. The scraps from my quilts are sorted by colour and have homes in Really Useful boxes on top of one of my bookcases. I am slightly worried that everything that came out of the room isn't going to fit back in. Maybe a second look at things will find me more I can cull.
Afternoons are for quilting. The quilt I am currently working on is taking 4 to 5 hours per pass. So I only get to roll to a new section once a day. On the other hand I do get to compete a pass in a day. It is both satisfying and frustrating at the same time. I hope it will be worth the time.
Evenings are sit down sewing. My back tends to get upset with me if I stand and quilt all day now so this is a compromise. It is also progressing a lot of projects so I can't complain. Tonight was another go at the quilt I was doing yesterday. I am so excited by these blocks and if all goes well tomorrow I think I will get another finished.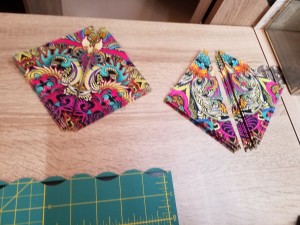 These are the pieces before any sewing. They do look fun, don't they? I did double check the possible diagonal cuts. I think however I cut this piece it was going to be good.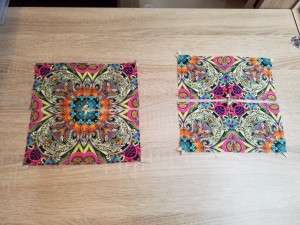 After sewing the triangles together these are the 2 possible blocks. I will pick one version and make 4 units. Then they will all be joined to make one super block.  It amazes me how differnent the colouring is when the pieces are all cut from the same fabric. This is the last set I have cut ready so after these blocks we will have some less exciting days of fussy cutting the next pile of pieces.