May 26, 2018
During the winter holiday from teaching I worked hard on trying to build myself a new routine. I had a plan to make sure I got some me seeing time every day. It worked great to mid January then life got in the way and I was back to work firefight sleep, rinse repeat. As things are now calming down again I have been having another go at stopping work at a reasonable time and then doing my own stuff. I am not quite up to really creative things yet, I am trying to have a huge declutter and reorganize too and that takes a lot of time. I am however getting some of my kits and patterns done, which for me is wonderful relaxation.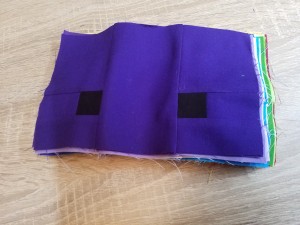 Last year I bought a craft space that folds into a large cupboard. It has a lot of boxes that I have stored projects in. Each evening I can grab the project that fits the amount of brain power I have left. Recently it has been an Elizabeth Hartman pattern. I have several and I really enjoy making them. So far I have just been using solid fabrics, maybe my next will be using some of the fabrics I have been rediscovering in my stash

For this quilt I am working in sets of 25 blocks. There will be 4 different blocks each block will be made in 5 shades each of 5 colours. It was actually to use up scraps from another quilt, I was expecting to make a few blocks and put them in the corner of a mostly wholecloth. Instead I will be making a super king quilt with almost no background colour. Oh, and the leftovers from this quilt will also make another quilt too. There are lots of flip and sew corners and I have been turning all the offcuts into half square triangle block so those will get sewn together as well. Who knows there may be some crumbs even after that.