May 23, 2018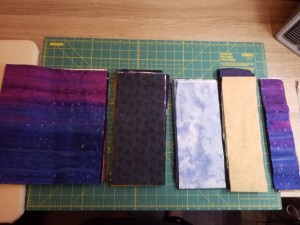 Next in my fabric sorting task has been "scraps". As I think I said before I never understood how big a piece of fabric some people called a scrap until I tried to fold them all neatly. Once it is smaller than a fat quarter it becomes really problematic to make lookk nice. True looking nice isn't everything, but messy crumpled bits also take up more room and I am pressed for space so I needed to change my outlook. I have taken on board two concepts, smaller than a fat quarter is a scrap, and scraps are best stored precut. For my precuts I am trying to only cut strips (for really small pieces I may cut squares too). I have chosen eight types of scrap,
Crumbs
1.5 inch strips
2.5 inch strips
3.5 inch strips
4.5 inch strips
5 inch strips
10 inch strips
Specials and sets
I did look at a lot of differnt people ideas before settling on these. I have 8 steps becasue the new storage I bought has 8 compartments. 2.5″, 5″ and 10″ are all common precut sizes. They seemed a good thing to have on hand to let me play with patterns that will work for commercial precuts. Crumbs have been on my to do list a while. I have 2 crumb quilt ideas I am really keen to work on. The specials are mostly Swedens fault. I have lots of metric sets of fabrics from certain ranges. I don't want to lose any as they are pretty small cuts to start with so they are staying as is until I know what they are going to become. The other sizes are useful numbers that come up fairly often in patterns and will play well with each other. Although I have left them as strips they can easily be cut into squares if I want say half square triangles, or I can go ahead as they are and make log cabins or perhaps asymeteric log cabins. The main thing is it lets me sort my small pieces and store them much more efficiently.
The downside of this cunning plan is there is a lot of pressing and cutting to do. I know it will get easier once I clear the backlog, but the backlog may take me a while. It is at least very satisfying.