May 21, 2018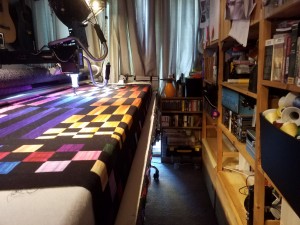 OK the title sounds good, but I am far from convinced my space lives up to the name. Still it is what I have and I seem to manage to work and create here so it does fulfill the role. The picture does show the whole space, and this is as tidy as it ever gets. The guitar on the far left is hung on one wall the shelves on the right are on the oposite wall. The end "wall" is entirely glass which means in the summer it is a green house and in the winter it is a freezer. People often say to me "I don't have a big house so I can't have a longarm" to which I always reply neither do I. My house is a small 1930s terraced house, but where there's a will there's a way.
The black basket of threads to the right is overflow and waiting to be put away. I am not good at putting threads straight back in their colour sorted drawers (just off to the right hand side)  so I added a catch basket. I will at least sling them in there and keep them off my very limited working spaces. When it is full (about 4 more cones I think) I sort the whole lot at once. It makes me happier to do it that way, and I have learned that working with my natural tendancies works far better than fighting them.
The glass fronted cupboard above my threads is still used to store glasses. Once upon a time this was a dining room and that is the last trace of it. There is nowhere else for them to live so they will be staying there.
You will notice there are a lot of CDs in here. I listen to audio books as I work. I have cordless headphones so I can block the noise of the machine and listen to the book at a lower volume. I found working to music distracting. I start moving to the beat of the music not the machine and that is terrible for my stitch consistency. So instead I read, well listen.
The floor doesn't usually look that good. I am in the process of changing the strorage under the longarm so I have taken up my foam floor tiles. This room has a concrete floor and as well as getting very cold to stand on it is hard. So I usually have 3 layers of foam lock together tiles. They are comfortable but horrible to try and keep clean as stuff gets in around the edges of them. I am going to tape the joints this time when I re-lay them in the hopes that will reduce what falls through. I may also tape the layers together but I am worred that will make them very hard to remove next time I need to do anything.
The shelves are deep enough that I can get in a row of either quilting books or fabric wound onto comic book boards and then have a row of cd's in front. My desk space is one shelf where I don't have a row of cd's. That is enough to keep the threads for the current project to hand.
At the moment the bottom 2 shelves look very empty. They have just been cleaned out and I am refilling their back sections with fabric. I don't expect them to stay that clear for long.