May 11, 2018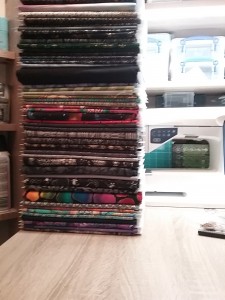 The last year has seen me doing a lot of cleaning and reorganising. I certainly had plenty to do but things are now moving forward. As the weather has improved I have felt more urgency to try and get the house empty enough to have the windows replaced (also a long time coming).Having done most of the normal house areas I am now working on fabric spaces.
Having watched a lot of youtube videos I decided to have a go at winding my fabric onto boards to try and make it easier to see and store. There are several companies making custom boards for quilters, some of which I absolutely love, but I can't afford them. I have a lot of fabric. No more than that a LOT!
Of the cheap option the lowest effort looked to be the comic book boards. More exactly the Magazine size backing boards. 100 of these costs 10 to 15 pounds so it isn't a massive investment even for me. Having wrapped my first 100 boards ( I said I have a lot of fabric) I really like this system. I like that I am getting to see every piece of fabric I own. I like how they stand on shelves and I love that I can write the size of the piece of fabric on the board where I can see it without having to unwrap the fabric. There are some limitations to this system, the fabric needs to be over half a yard. I think this is why you see people on youtube claiming anything smaller than that is a 'scrap'. At the other end of the scale I think much over 5m is going to be too much on one of these boards. As most pieces I own are within those ranges I think I have the winning solution for me. I will be changing how I secure the fabric on the boards though. This set are held on with bobby pins, I think I will try paper clips for the next round.