November 19, 2017
Thursday I had a day off  from teaching so I could go to Wembley to see Alice Cooper. I have seen him many times and he is always worth the cost. One of the top showmen of the music industry. This time we had amazing seats dead center of the stage and 12 rows back, which can only make things better. The support bands were The Tubes, who were odd but quite fun and The Mission, who I still just don't get. I assured the mix was also very poor for them so maybe it wasn't a fair chance. It has to be said that Alice Cooper now attracts a certian demographc to his concerts so more seating without a lot of stairs is going to become essential

  Not that that is something that would worry him. Despite his age there is no sign of him slowing down at all. A real role model there. Mind you Ialso consider him and his daughter killing each other on stage every night a sign of a great family, so I may have odd taste in role models.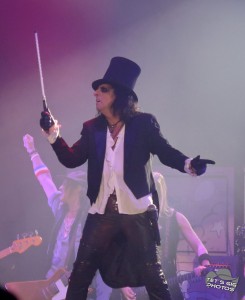 The show was every bit as good as I expected. I liked seeing the original band and even better having the whole of both bands on stage. Why have one drum kit when you can have two. I wonder if Alice is feeling his mortality a bit with so many musicians dying in the last couple of years. He says he still feels 18 and it trying to get out of here alive. I wish him much luck with that, and well I hope he will be entertaining me (and many others)for a long time to come.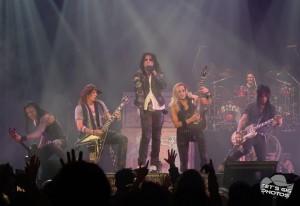 One of the other reasons I like going to concerts is I always come away with ideas for things to make. That won't always be a quilt (OK it often is) but this time it was. Hopefully I will have time to sketch out a few ideas sometime this week but before I lose track of what I have in mind. This time I think it is a fairly simple idea. Fingers crossed it stays that way once I get to thinking about how to make it.